Chimera
The Orpheus Advantage:
25 years plus Design Experience
Delivering "The Emotion Quotient"
The Chimera features:
Custom designed bass driver in a cast alloy chassis
Silk dome tweeter with Neodynium magnet system
Crossovers utilising air core inductors
Polypropylene capacitors and metal oxide resistors
2oz copper foil custom made PCB
Cabinets using furniture grade timber veneer
Chimera
Specifications
Design
2 Way Front Ported
Frequency Range
-3dB at 55Hz and 22kHz
-6dB at 50Hz and 25kHz
Frequency Response
57Hz to 20kHz ± 2dB
Sensitivity
89dB at 1 meter, 2.83 V input on tweeter axis
Power Handling
120 Watts Music Programme
Impedance
4 Ohms nominal, minimum phase
Crossover
11 Element, audiophile grade components
2 oz. copper foil PCB for maximum connectivity
Drive Units
Custom designed 100mm paper cone
30mm silk dome tweeter with Neodynium magnet system
Cabinet
18mm mdf
Real timber veneer with epoxy lacquer
Dimensions
495mm(W) x 180m(D) x 160(H)
Weight
11kg (each speaker)
Finish Available
Black Oak, Mahogany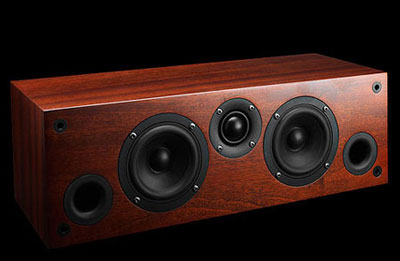 How does it sound?
The new Chimera has been designed for maximum 'speech intelligibility' and tonal accuracy. To achieve a good match to the new Apollo speakers and compliment the audiophile grade crossover components, we have developed a special bass driver. The result is an exremely compact speaker that will fit almost anywhere. This combination lowers the noise floor and increases dynamic range, helping to capture and clarify the most elaborate, demanding multi-layered soundtracks. The Chimera simply melds into the home theatre sound field, creating a palpable sense of 'being there'.