Aurora 2.3/3.3
The Orpheus Advantage:
25 years plus Design Experience
Delivering "The Emotion Quotient"
The Aurora 2.3 and 3.3 features:
Custom made kevlar cone on a non resonant polymer chassis
Silk dome tweeter with critically damped chamber
Crossovers utilising air core inductors
Audiophile grade metallised polypropylene capacitors
2oz copper foil custom made PCB
Cabinets using furniture grade timber veneer
Aurora 2.3/3.3
Specifications
Design
3 driver, 2 ½ way floor standing
Bass Loading
Differential Bass Loading
2-chamber twin rear port
Frequency Range
A2: -3dB 40Hz and 22kHz A3: -3dB 37Hz and 22kHz
Frequency Response
A2: 45Hz to 20kHz ± 2dBA3: 40Hz to 20kHz ± 2dB
Sensitivity
90dB at 1 meter, 2.83 V input on tweeter axis
Power Handling
120 watts
Impedance
4 ohms (benign load), minimum phase
Crossover
12 element, Audiophile grade capacitors and resistors, 2oz copper foil PCB
Drive Units
Custom designed 6" kevlar cone bass driver
30mm silk dome tweeter with critically damped rear chamber
Cabinet
Pre-stressed laminated 18mm Mdf
Strategically braced
Terminals
Bi-wire
Dimensions
A2: 190(W) x 280(D) x 890(H) A3: 220(W) x 325(D) x 950(H)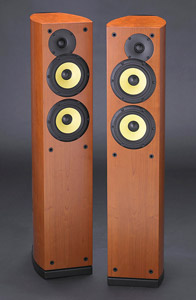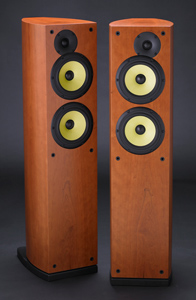 How does it sound?
The floor standing Aurora's are characterized by a truly wide, 3-dimensional sound stage with pinpoint imaging that captures the ambience of the recording space. The speakers exhibit a highly accurate midrange and treble response. This is combined with a truly fast and extended bass end, with weight, punch and timing that is surprising in enclosures of this size and price.